We are proud to offer the CEL-FI By Nextivity product line this wonderful product lines to include the Emergency Responder Radio Communications System (ERRCS)
We have been working with CEL-FI over the past year and Have deployed their products for Cellular and Publics safety coverage solution and are working with local AHJ to deploy the QUATRA RED in our markets.
We also provided a pre installation site survey that will clarify if the need of an ERRCS would be required for the facility
to meet the local AHJ compliance for occupancy approval. This will include a Grid type of coverage ERRCS AHJ compliance report and a design if the site does not meet the ERRCS coverage compliance.
Please review the provided martials to include the video and call or email us with any questions.
Introduction to Public Safety System
Communications for First Responders has become mission critical over the last

few years. It's always been important, but now it's an integral part of the incident response game plan.

In building public safety coverage is becoming mandatory . Some regions are




already there. Many more are getting there.




3. Public safety is incorporating cellular technology into the tool box. (FirstNet,




and many others globally.)
The concept of ERRCS was first introduced in the 2009 International Fire Code Section 510

In 2012, ERRCS was included in NFPA 1 section 11.10

Apply to new construction or major renovation in buildings over 3 4 floors

Apply to commercial buildings only



QUATRA RED Presentational video below.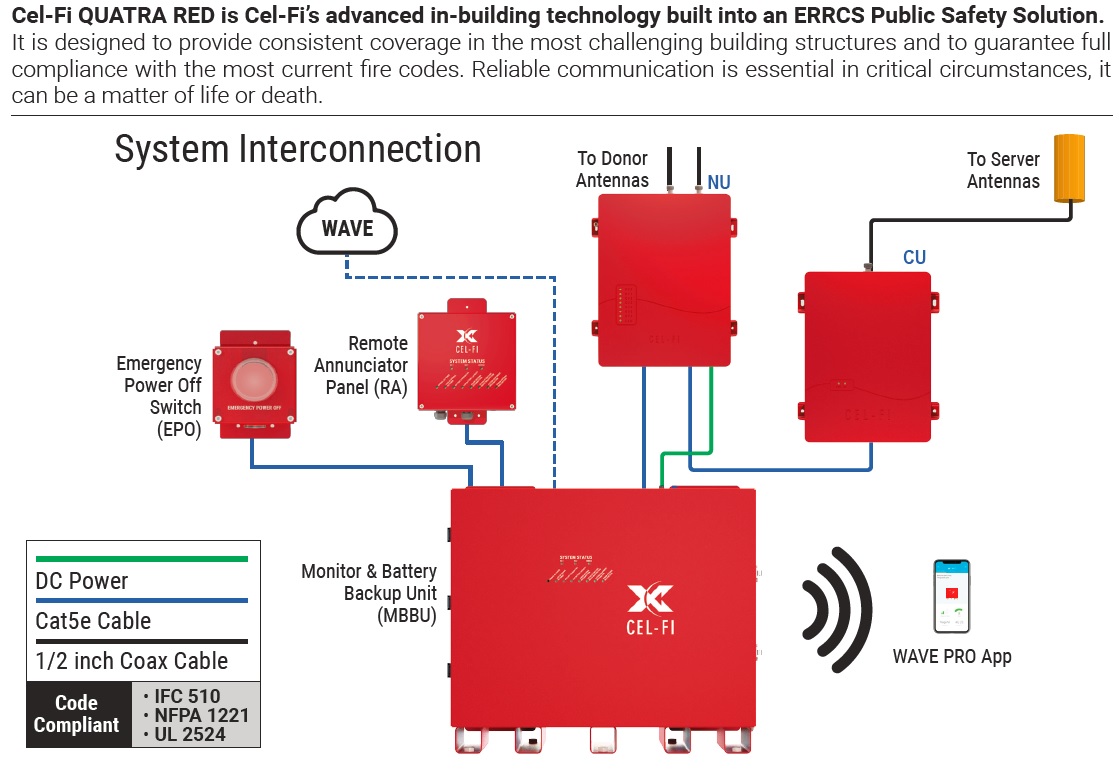 QUATRA RED Monitor & Battery Backup Unit
The Monitor and Battery Backup Unit (MBBU) is the central point of the Cel-Fi QUATRA RED system. It provides constant direct current, alarming, monitoring and battery charging capabilities. Integrates a wireless LTE modem and a wired Ethernet port for remote access to all the components via the Cel-Fi WAVE Portal or the WAVE PRO app. Is NEMA 4 rated and UL2524 compliant. Two versions available to optimize power requirements and installation costs.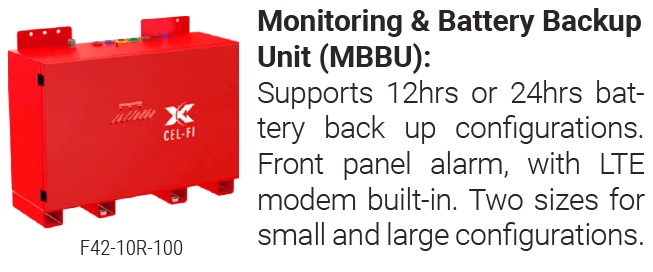 This is example text. Please click here to
QUATRA RED Remote Annunciator Panel
The Cel-Fi QUATRA RED Remote Annunciator Panel provides automatic supervisory signals for malfunctions of the ERRCS solution. Rated NEMA 4, it complies with Chapter 10 of NFPA 72 and section 9.6.13 of NFPA 1221. The PoE architecture allows for a quick installation and alarm configuration. The unit includes a FORM-C cable compatible with any fire alarm control panel (open or short circuits).
edit the text.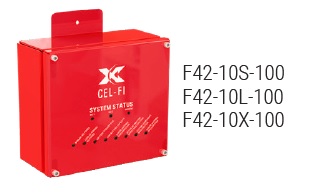 QUATRA RED Emergency Power-off Switch

Cel-Fi's QUATRA RED Emergency Power Off Switch (EPO) can instantaneously shut down the ERRCS solution from a single point to eliminate the risk of combustion caused by electricity or static. Designed to prevent inadvertent operation and can be installed in any location designated by the authority having jurisdiction.

QUATRA RED Network Unit
The Network Unit (NU) processes FirstNet and LMR off-air signals digitally to provide reliable and interference-free coverage. PoE based architecture and Cel-Fi patented algorithms for automatic setting of uplink and downlink gain, reduces time and cost of installation significantly, making Cel-Fi QUATRA RED the most compelling public safety solution in the market.

QUATRA RED Coverage Unit
The Coverage Unit (CU) amplifies FirstNet and LMR signals up to 24 dBm and 30 dBm output power. The ease of installation plus the SelfOrganizing Edge Intelligence makes Cel-Fi's QUATRA RED the most compelling solution in the market.